The Inn of the Star Crossed
The Omniverse is in danger; it is unraveling and jeopardizes our universe and the entire multiverse. The founder of the inn on the human world has been murdered. It is up to Bill and Carey, together with Tim the elf, Belle the pixie, their crazy waiter Henry who thinks he's from outer space and their trusty dog spot, to travel back in time to make sure that the inn is built and our human universe restored.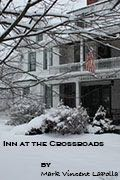 Inn at the Crossroads
Fantasy novels where the inn is the one of the main characters. And science fiction shorty stories and poetry.