Short Stories
This is a set of science fiction and fantasy stories. Including science fantasy, dystopian futures, genii and political stories and a whole lot more. All of them fun romps in the near future and distant futures and some might even be in the past.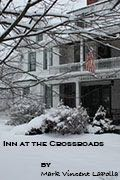 Inn at the Crossroads
Fantasy novels where the inn is the one of the main characters. And science fiction shorty stories and poetry.